Three Software Tools Your Camera Is Begging You For
By John Deprice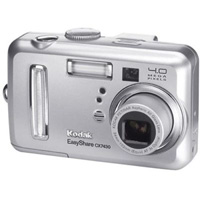 Digital camera owners often think that the only thing they need (besides the camera) is a finger to click. Well, if you get proper software, you can do a whole lot more with your camera.
ACDSee 8 Photo Manager (ACD System)
With ACDSee 8 you can fix and enhance any photo like an expert. The software allows you to orrect groups of photos at the same time, fix red-eye or exposure problems, and perfect your photos with professional editing tools. You can also burn your photos to CD or DVD, and create backups of your best memories. Unlike Photoshop, ACDSee 8 is very simple. Plus, it can create slide shows, screen savers, or on-line photo albums for friends and family, and produce professional prints and contact sheets.
Face Filter Studio (Reallusion)
Face Filter Studio is 3D photo morphing technology that lets you import any portrait photo and enhance the facial feature either subtle to improve or dramatically to create funny faces. Face Filter Studio is extemely easy to learn and use, but it does have some limitations. You can modify the size, angle, and position of eyes and eyebrows (individual or as a pair), noses, and mouths. You can adjust color and tone globally. The image modifications Face Filter Studio does are very real and subtle, but you can also crank up the expression strength for silly, comic effects.
Morph Buster (SoftBusters)
Morph Buster provides an easy way to morph photographs into animations. You simply select beginning and ending images and specify the delay, and the program quickly will do its job before showing a preview in the interface's lower pane. Morph Buster's simple editing tools let you touch up images from directly within the program. In addition to that, Morph Buster lets users add text to images, deform image, set the number of frames per second, print out a morphed image and send it via e-mail.
Download Links

ACDSee 8 http://www.deprice.com/acdseephotomanager.htm

Face Filter Studio http://www.deprice.com/facefilterstudio.htm

Morph Buster http://www.deprice.com/morphbuster.htm

John Deprice is a professional photographer and a digital artist. His website is http://www.deprice.com/design.htm
Article Source: http://EzineArticles.com